Disability Confident - Working with disabled customers and colleagues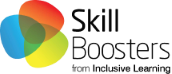 Introduction
Would staff in your organisation know the right way to deal with a customer or colleague who has a physical or visual impairment? Would they be comfortable with it, or would they feel awkward or embarrassed?
This learning resource provides the practical steps you need to take in order to serve disabled customers, and to work with disabled colleagues and staff.
Developed in partnership with Business Disability Forum (BDF), this training solution from Skill Boosters provides guidance on best practice in the workplace, and emphasises the value of a diverse workforce
Intended Audience
This course covers a comprehensive range of disability-related topics. It is aimed at employees of all levels including foundation level employees, HR managers, diversity specialists, trainers and advisers, senior managers/executives and operational managers/executives.
Course Content
This course doesn't just explain the requirement under the Equality Act 2010 - it looks beyond compliance. The course content and structure will ensure that your staff gain the knowledge and skills necessary to work successfully as part of a disability confident team
Course Benefits
This course will enable your staff to have a better understanding of:
Disability being a key issue for all staff, not just those responsible for facilities.
Attitudes to disability.
The requirements of the Equality Act 2010.
The most appropriate ways to work with disabled colleagues and how to communicate and serve disabled customers.
The types of 'reasonable adjustments' that need to be made for staff and customers with disabilities.
Promoting appropriate behaviour in relation to deliberate bullying and harassment.