Equality Essentials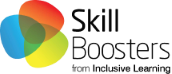 Introduction
Equality means different things to different people and is sometimes confused with added business burdens and positive discrimination.
We believe that equality is about recognising and promoting people's rights and responsibilities in ways that support the creation of an inclusive working and customer service environment.
Without a clear focus on equality, realising a culture that celebrates diversity is impossible. This is why Skill Boosters has developed Equality Essentials.
This interactive and engaging learning tool is designed to demystify and simplify equality issues. It provides staff and managers with a practical introduction to the key principles to help promote equality in your workplace.
Intended Audience
Equality Essentials enables your staff to gain quick insight into key themes for good equality practice. It helps your staff understand key terms, how to identify and respond to harassment and bullying, and gives tips for creating an inclusive service and putting equality into practice.
Our e-learning resources are equally valuable for introducing aspects of equality to staff for the first time or for helping managers and HR professionals get the best from an organisation-wide equality and diversity programme.
Course Content
What equality and diversity mean in practice
The key benefits of good equality practice
How to recognise and challenge inappropriate behaviour at work
How to provide an inclusive and accessible customer experience
How to put policy into practice
Course Benefits
Via e-learning, this course offers modules which introduce the learner to all issues around equality that arise at work. Suitable for people in every type of job, in every type of organisation, it has been developed to help staff at all levels, including foundation level employees, operational managers and staff, HR managers and trainers and senior executives.
The course encourages people to consider what equality and diversity
mean in practice, explains individual rights and responsibilities, gives examples of inappropriate behaviour and what to do about it, as well as tips on how to put policy into practice.
Summary of video-clip scenarios
Module 1 - Defines equality and diversity to ensure effective communication of equality and diversity messages. It explores the scope of equality law and encourages learners to move beyond legal compliance to create an inclusive environment in which everyone feels valued and reaches their full potential.
Module 2 - Provides dramatised examples of inappropriate behaviour at work, describes different types of harassment and bullying, the impact of inappropriate behaviour on individuals and helps the learner to respond effectively to inappropriate behaviour.
Module 3 - Shows how equality can ensure improved customer service. It highlights the key elements of effective customer service and indicates the importance of understanding and responding to individual needs to ensure that your services are accessible to all.
Module 4 - Identifies the benefits of equality and summarises how to practice equality in day-to-day work. It also provides useful contacts for future support.